BOOK REVIEW: 'George Washington's Military Genius':
For America's General, it was Peg Mullen's Beefsteak House
Thursday, May 31, 2012 – 17:12
Huntington News Network
Reviewed by Gary R. Prisk
A congressman, a land owner, not in the least showy, a man keen to the whims of economic and political intrigue, General George Washington's landed will was his reason acting in concert with America's grand goals—independence and westerly expansion.
Dave R. Palmer's "George Washington's Military Genius" (Regnery Publishing, Inc., 254 pages, $27.95) is a masterful synthesis of Washington's tenacious longevity (The Old Fox) providing a logical trace of the general's strategies as the Revolutionary War passed from winning America's independence, to not wanting to lose.
With his army tied to the average speed of a horse, a medley of enlistments, untrained woodsmen and farmers, limited resources, and tactical strategies tied to the waterways that led to the Atlantic, Washington's natural calmness while sorting the war's perplexities allowed the general to make immobility to appear responsive.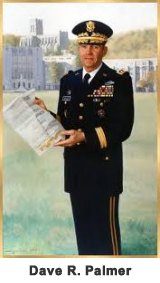 The author cast the kernel of this great cause, the American Revolution, in four phases, for the reader a light ard that provides a sense of probability. "George Washington's Military Genius" is not a load of old cod. Dave Palmer is a well-researched, master word smith. His book is well written, must be carefully read, and brings America's first commander-in-chief to the crest of a hill top near Mount Vernon.
With care Palmer leaves Washington to carry his defeats — neither one of the Nine Worthies, yet nearly one of the Paragons of Virtue. Palmer paints the French tri-color with an amusing brush, and saves his best for King George III.
After seven years of fighting the pesky colonists, the pamphleteer, Thomas Paine, suggested that the number seven is a number rife with proper ghosts, a trifle wed to English law — Parliament was elected for seven-year terms, apprenticeships lasted seven years, leaseholds were signed for seven years — a time-span that influenced the English citizenry—the French and Indian War lasted seven years.
After seven years of trying to put a crown on the bull's eye, King George III might as well have sent coal to Newcastle, or maintained England's mastery of the seven seas.
The king met his match in the military genius of one man, General George Washington.
"George Washington's Military Genius" will be required reading for all students of the American Revolutionary War. There are no short planks in this book. This enjoyable read is the kind of book we like to find sitting next to us, the meat of the gospel as it were. Dave Palmer's research wins every toss.
Seven Stars.
About the author
David Richard Palmer is a retired United States Army Lieutenant General, former Superintendent of the West Point (1986–1991), military historian and author, and former President of Walden University. A 1956 graduate of West Point, he served two tours in the Vietnam War and numerous command positions during the height of the Cold War.
About the reviewer
Gary R. Prisk is a best-selling author and an infantry veteran of Vietnam's war and the first Gulf War. He began his army service as a Special Forces medic with First Group, attended parachute school at Fort Benning in 1964, received a regular army commission through ROTC at the University of Washington in 1966, fought in Vietnam's war with the fabled 2ndBattalion of the 503rd Infantry, 173rd Airborne Brigade in 1967 & 68, and became an army Ranger in 1969. Joining army reserves in the Seattle, Washington area Prisk returned to the University of Washington earning degrees in Mechanical and Industrial Engineering, an MBA in Finance, and taught Finance at the university as part of his doctoral studies in finance. Prisk continued his service in the army reserves for 29+ years ending his career as the reserve-component Chief of the Battle Coordination Center for VII Army Corps, headquartered in Stuttgart, Germany. After retiring from the construction industry Prisk began writing and lectures on Vietnam's war.